Hi Everyone!
Here are some rules and guidelines we would like you to follow when joining our events. This is to ensure that your entries are conforming our standards.
1. Most Events have round 1 and 2, a player (regardless of what character/account he/she use) can only win once. If you are caught bypassing this rule you canbe disqualified and even banned for all events.
This rule applies to all events.
2.(
Events done ingame
) rules stated by events must be followed and avoid harrassing or disrespecting the Event Team. Event team can disqualify / kick out players being disrespectful during events, not following rules and harrassing players that may disrupt the ongoing event.
3. (
events which requires email entry
) We allow only
ONE entry per player
, 2nd entry/email due to mistakes in answer/ screenshots or such are void. Be careful in sending your email, double check your answers before sending. Include your IGN in the email.
4. (
email title/subject
) use the title we Include in the post which is usually following this format
Event title +

Day

+ Round/Part
Example :
The Freezing
Day 1
Part 1
or
Season of Love
Day 1
Part 2
Where to send you entry?
just email your event entry to
[email protected]
Events that ask for Screenshots like , crossword, picture puzzle, copy inventory, Find the item, name the map tend to be troublesome as players doesnt follow the rules for screenshot entry
Screenshots must be:
- not edited
- showing minimap
- can clearly see the character
- must clearly see the event items / crossword/ puzzle
- uploaded via
http://imgur.com/
or directly attached in email.
- Desktop and task bar can be seen for some events
Sample for Screenshot entries
A. Crossword Event B. Copy inventory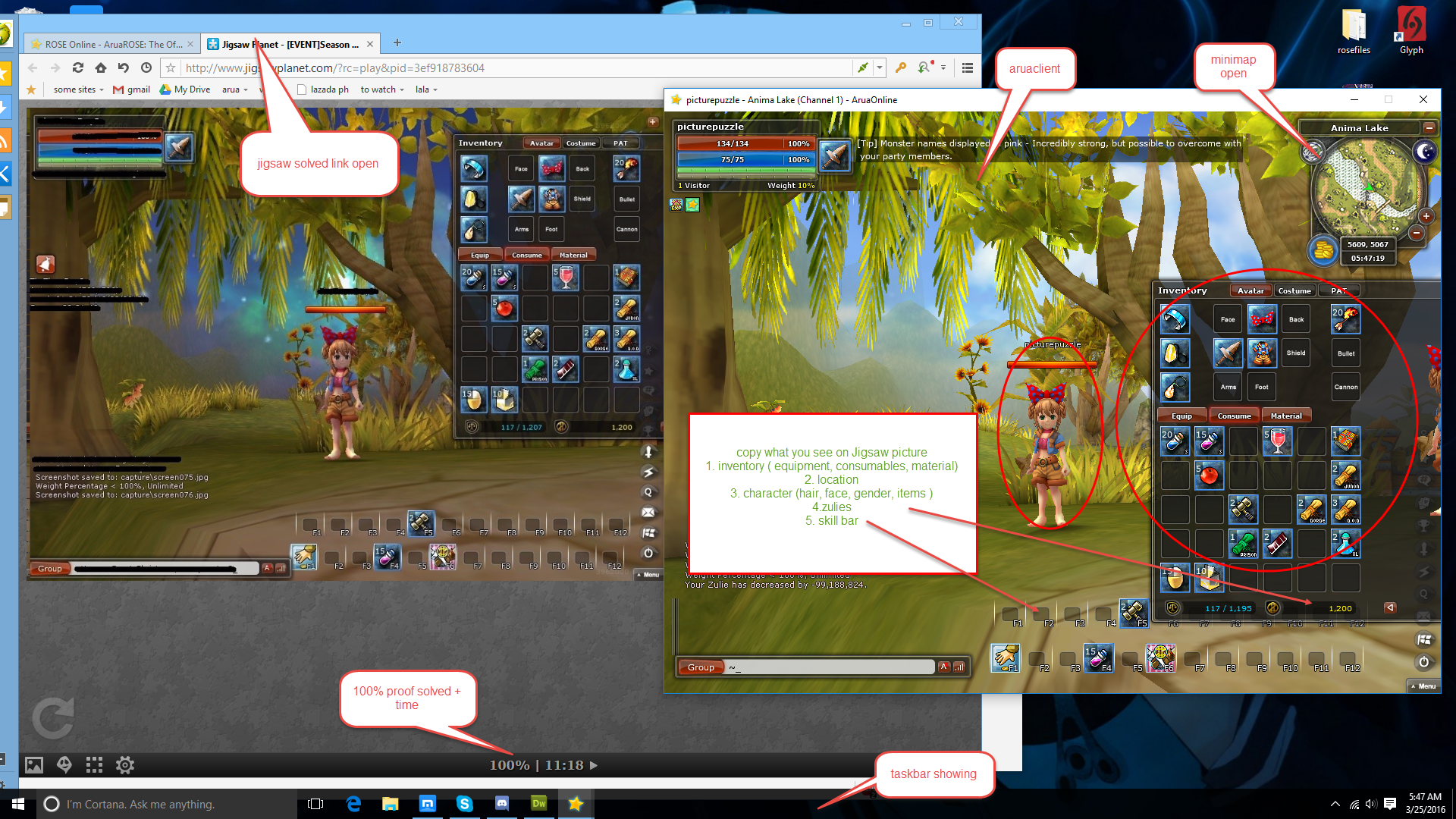 C. Picture puzzle ( answer to picture puzzle must be beside open game client )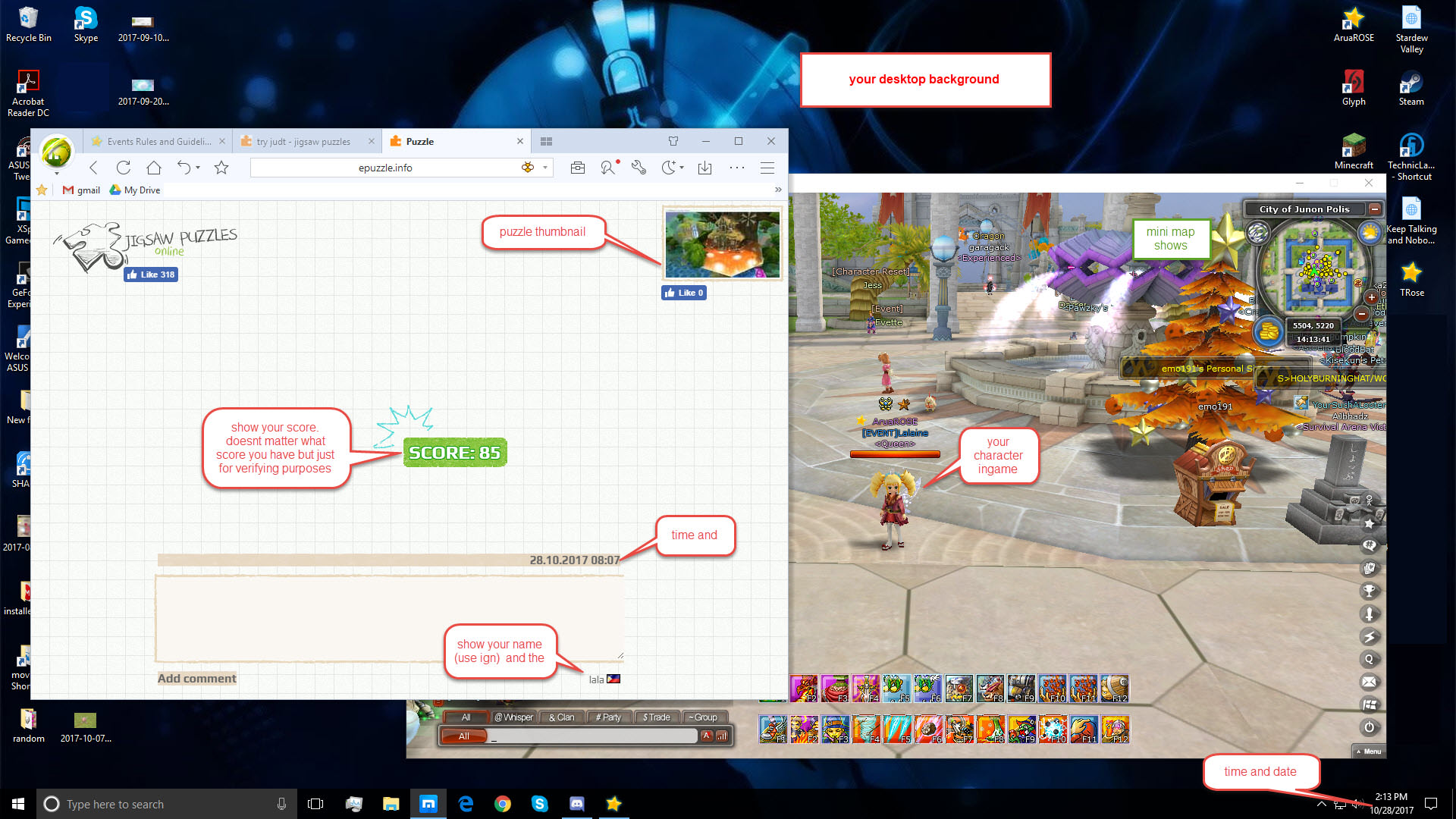 D. Pairs / picture match
-------------------------------------------------------------------------------------------------------------------
What if the event asked for several pictures? Some events like find reindeers , trees, eggs, around the maps requires several pictures and must be sent one time only. see below for a sample email
How One ENTRY email must be
( Example event needs to find 8 trees )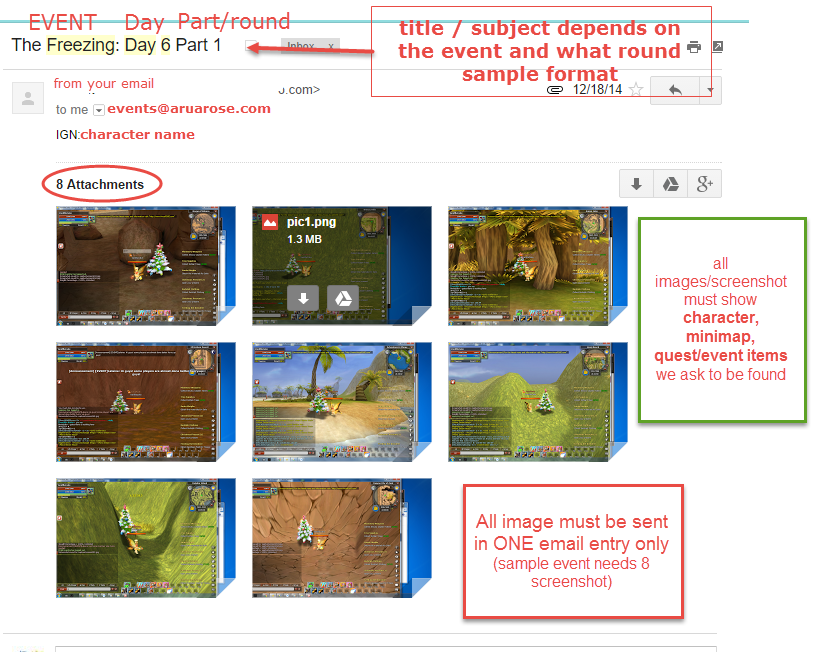 If an event needs to find 10 reindeer image attachments must be 10.
If it will be a picture puzzle then just need to attach the correct answer.
lastly we do put disclaimer on all events we run. We may change rules before/during event due to unforseen circumstances. We will be announcing it either ingame or forum.
Last edited: