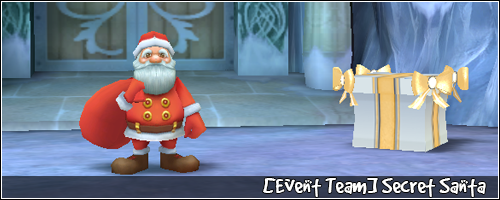 Seasons Greetings Visitors,
We will have a Secret Santa Exchange gift event this Christmas! Just as last year, you can give a special gift to the secret santa pool. We encourage everyone to participate and give gifts and receive one from another player in return. .
How to join:
- prepare your gift with minimum value of 50,000,00 zulies ( 1 gift per player )
- if refined please think about whose recieving the gift, so we won't accept most items that are not maxed(less than 120 dura) There are exceptions to some items, but again the thought is about giving someone a nice gift.
-
[EVENT]Manager
will be online during Dec 23 - Jan 1 to accept gifts from players ( we will announce in-game whenever Event Manager is online and able to accept gifts )
- there will be a log of who traded and what items are traded to [EVENT]Manager
- by December 31 we will stop accepting gifts and run the randomize
- the system will randomly exchange gift for the participants making sure they wont receive what they gave. ( base on the trade log of Event Manager. Only those who participate or gave gifts will receive something from another player.
- gifts will be directly deposited into your premium storage once the event has officially ended, it will be announced on this thread and in-game and on discord.
*Disclaimer: rules may be changed during the course of the event due to unforeseen actions, we hold the right to do so without warning, always keep up with the thread for current rules, at any time during this or any other event we hold the right to disqualify you, this decision is final. Be respectful to all players and staff participating/hosting, follow all of the rules and most importantly have fun!*
Last edited by a moderator: