Developer
Staff member
Developer
Visitors,
We'd like to do a full test run of our Tournament Arena, from sign ups right through to declaring a winner. The aim of this dummy tournament is to open discussion as to what the general rule set should be, identify any bugs which we've missed, and make further improvements to the system based on the feedback from players who have taken part in the tournament. It is also an opportunity where we can ensure the staff side of the Tournament Arena works fine, and will help identify any new tools we may need to create to make things run even smoother.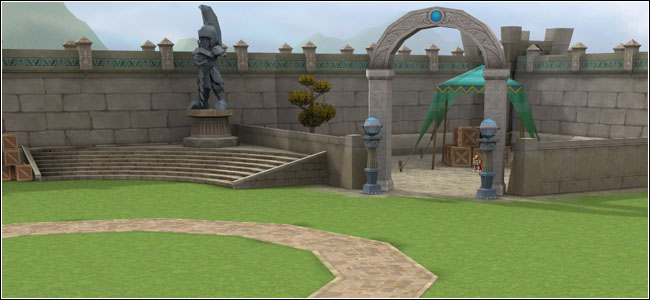 Signing Up
To sign up to the tournament, open the
Game Arena
window (ALT + P) and click the
Tournament
tab. Click
Sign Up
at the top of the list, then click the
Join
button. We have set the entry fee to
1,000z
- big spenders only please.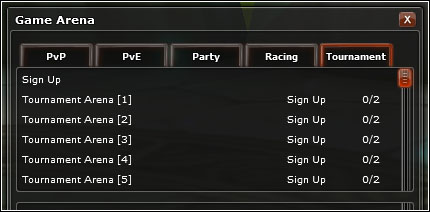 Sign Ups are open right now
, and we will keep the Tournament Sign Ups open for a few days. We're not looking for huge numbers of players to join, just enough to get a variety of feedback.
This tournament is open to players of all levels and all classes - so if you get matched against someone you know you won't be able to win, please do still complete your match as it helps us identify any issues regardless.
Going forward, we can limit tournaments to specific levels, level ranges, or classes - so this is not a problem.
Scheduling Matches
Once we close sign ups, a list of randomised matches will be posted
in this topic
and you will be assigned a specific Arena. Your scheduled match can only take part in that Arena - i.e. if we schedule your match for Tournament Arena [1], you cannot join Tournament Arena [3].
You do not require a referee or anyone to spectate/oversee the match. Contact your opponent, and when you are both ready, you simply join the Arena and your match will begin.
Current Rule Set
Each match is scheduled as
First To 5
. If you disconnect, you will
forfeit
your match. During the warm up round, your opponent will be hidden, which prevents you from "pre-clicking" your opponent. You will still know where they are as their name remains visible.
Arua's Fairy: Cannot be used.
Buffs: Buffs are reset after each round. You can reapply your buff(s) during the warm up round or the active round.
Items:

You can only change your equipment between rounds.
There are no restrictions on what items you can or cannot use.
Costume items are hidden during the match - only your real equipment will be seen.

Skills:

The following skills cannot be used:

Summon skills.
Emotion skills.

There are no other skill restrictions.

Storage: Cannot be used.
Time Limit: Each match must end within 30 minutes.
Transport & Movement: You cannot use any Carts, Castle Gear or Mounts at any point. Players cannot walk - you will run at all times.
These rules may change before we begin the match phase of the tournament.
Feedback
This will be key to the success of the Tournament Arena. We want to hear your suggestions on ways we can further improve the Arena:
https://forum.aruarose.com/threads/game-arena-tournament-arena.173457/
Last edited: